Brainwoods Obtains ISO17100―International Translation Standard
Brainwoods Obtains ISO17100―International Translation Standard
Brainwoods acquired ISO17100:2015, an international standard that determines criteria for the quality of translation services, and has been certified as a Translation Service Provider (TSP) by Japanese Standards Association.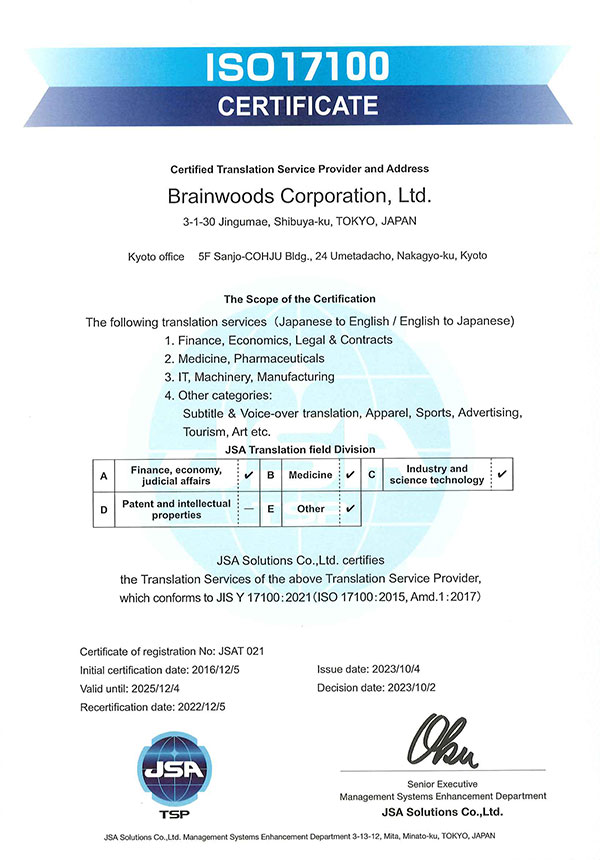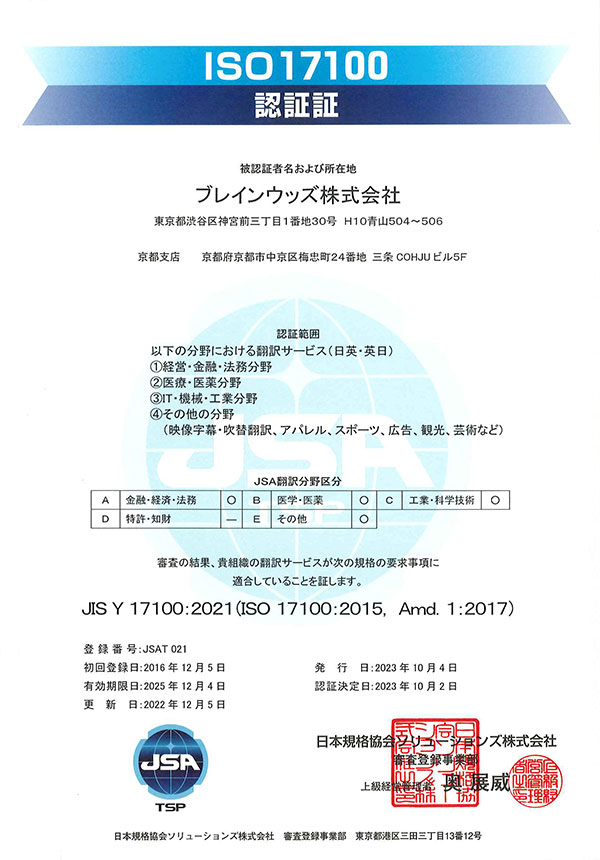 Purposes of Obtaining ISO17100
Brainwoods, since the company was founded in 2000, has been committed to providing translation that is ready for use immediately after its delivery. We uphold such service quality as part of our mission of translation business. Through careful consideration of a translation project's field, business area and required expertise level, we assign a translator or set up a team of translators who are best suited to the project. With our two-tier proofreading system and checking by a native speaker of the target language, we enhanced the quality of translation and have continued to provide translation tailor-made to suite customer's purposes.
To further upgrade the quality of our service, we leveraged an inspection required for ISO17100 certification to ensure that everything is in place in terms of translation procedures. We also recruited seasoned translators, the expertise levels of whom conform to ISO17100, in order to buttress our translation system. With customer satisfaction in our multilingual services at the forefront of our business, we will continue to improve service quality by technology development and quality control.
ISO17100 Certification Outline
Date of Obtainment
December 5, 2016
Certification Standard
JIS Y 17100:2021 (ISO 17100:2015, Amd. 1:2017)
Certifying Body
Japanese
Registration Number
JSAT 021
Certified Fields

Translation from English to Japanese and from Japanese to English in the following fields:

A

Finance, economy and judicial affairs

B

Medicine

C

Industry and science technology

E

Others such as subtitle & voice-over translation, apparel, sports, advertising, tourism, art etc.

Certified Locations
Head Office and Kyoto Branch Office
* We are able to provide translation services which meet the requirements of ISO17100. Please inform us if you require a service which meets this standard.